Choosing when to get a new carpet for your home can depend on a lot of things as well as a carpet's expiry date. Many Calgary flooring providers have heard a lot of stories regarding the many different reasons as to why people are in the market for a new carpet.
The amount of foot traffic, pets, and spills will be some of the deciding factors in the lifetime of your carpet. How often you clean your carpet will also determine how long it will last. Generally speaking, if you clean your carpet every 6 months - 2 years, your carpet is sure to last longer. A carpet can last generally 5-15 years from installation.
When can an older carpet start to negatively affect your health?
Many kinds of carpets hold bacterias. Some carpets can develop bacteria more than others depending on your carpet's fiber type and environment. If a carpet has had a long time to develop bacterias, it can start to affect your health in many different ways.
Respiratory and allergy symptoms can occur over time. Your carpet can develop these bacterias from dust, dirt, pet dander, and human skin cells. The types of tiny bacterias that can develop over time can cause you to develop cold-like symptoms, trouble breathing, and can also cause asthma attacks. Mold is one of the most common factors that is found linked to respiratory issues in old carpets.
Skin irritation and skin infections are something to consider if you are noticing any issues with common symptoms like rashing or you find yourself very itchy.
Allergies can develop over time when you are exposed to an old carpet. Dander that builds up in the carpet will start to become air-born. Some carpets have very tiny fibers we can breathe into our respiratory system. These tiny fibers float in the air and are not caught by the naked eye.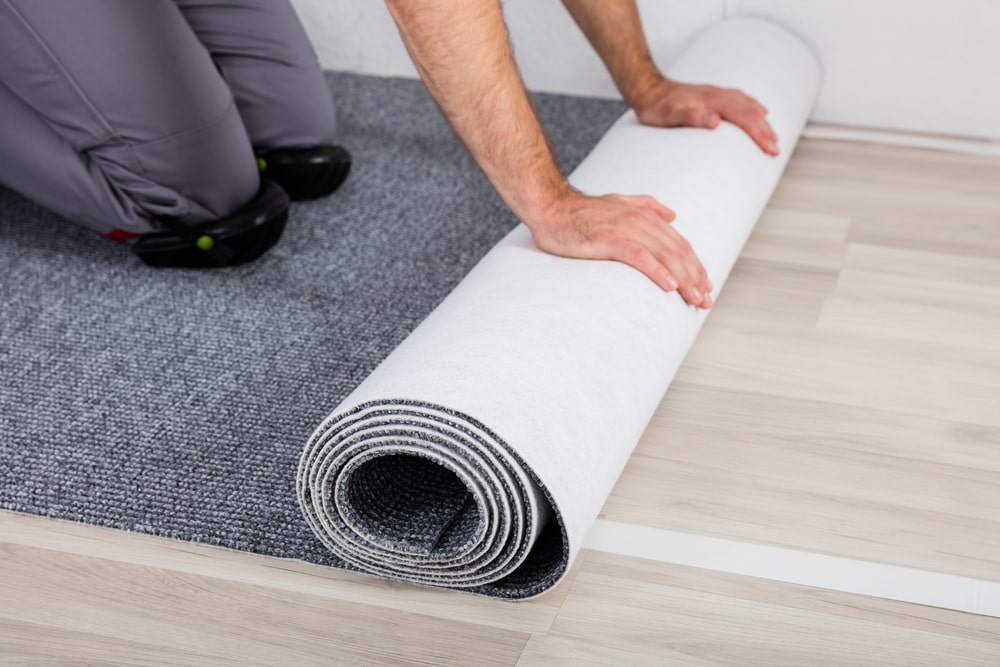 What happens when your carpet padding starts to fail?
When the padding on your carpet is failing, it is not much longer and you might be replacing your carpet. The padding makes your carpet last longer and helps your carpet take a lot less of an impact when being walked on.
When carpet padding starts to fail, you will notice that it starts to affect how your carpet looks. You might see your carpet begin to develop wrinkles and start to look uneven.
You may no longer like how your carpet feels under your feet. Padding not only helps the carpet last, but it feels nice to walk on and can directly impact the health of your feet. When the carpet padding fails, your carpet might feel and sound crinkly.
Will my carpet start to fade and smell over time?
With natural wear and tear over time, carpets will start to show stains, can be prone to matting, and eventually will start smelling bad.
Stains on some carpets are easy to remove but some are not so easy to remove, depending on the carpet fibers you have.
Matting can be an issue over time as well. Eventually, when used enough, the fibers of your carpet will lose their spring. This happens from years of repeatedly walking on your carpet and years of heavy furniture sitting on the fibers.
Smells can start to develop an odor from stains, spills, and bacteria that build up over time. How quickly this can occur depends on the type of fiber your carpet has and how much humidity your carpet is exposed to
How can I save some money when buying a new carpet?
If you are trying to save some money when you are looking to replace your carpet, consider getting a new carpet from the end of a carpet roll.
End-of-roll carpets are generally much more economical when searching for a new carpet. End-of-roll carpets come in limited options because they are pre-cut into specific sizes.
If you have just a room or two that needs new carpet, and your carpet is still holding up well in other areas of your home, an end-of-roll carpet piece is a great solution.
Additionally, the decision of when to buy a new carpet can also depend on what type of carpet you have. Many different types of carpets will last longer depending on what type of fiber your carpet is made of. There are many carpets to choose from for the length of time a carpet may last. Some of the most common carpets are wool, nylon, polyester, polypropylene which all last different amounts of time.